Class description: Maximizing your use of LinkedIn for your pet business can set your sales on fire!
Sadly, many business owners struggle to take full advantage of what this social media platform offers. This LinkedIn webinar created just for pet business owners will help you!
LinkedIn has emerged as the leading professional social media platform in the world. According to the social media giant itself, LinkedIn is the world's largest professional network, with 706+ million users in more than 200 countries and territories worldwide.
In this webinar, we'll teach you exactly how to use proven and tested strategies to get you real results with your ideal local clients.
LinkedIn's laser-beam business focus is the ultimate key for you to efficiently and effectively connect with your exact prospects!
You may have tried using LinkedIn to gain clients and got nowhere and you may be wondering, "Why isn't LinkedIn working for me?" Well, this webinar will tell you why it's not working for you now and EXACTLY what you can do about it to build your pet business and boost your brand.
Tap into the power of LinkedIn to build your business for your pet sitting, dog walking, dog training, pet grooming, or doggy daycare business. Register today!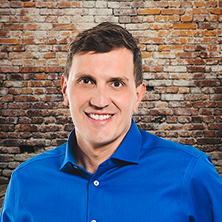 Chris Raulf
Digital Marketing Expert
The webinar is presented by Chris Raulf, an internationally recognized digital marketing expert and a LinkedIn aficionado. Chris has written several articles about LinkedIn for Social Media Examiner. He frequently speaks about LinkedIn at conferences worldwide, and he hosts digital marketing workshops in the Denver area and online. Besides implementing LinkedIn strategies for his customers, Chris trains students on how to maximize LinkedIn as a lead generation and sales tool.
In this interactive and hands-on webinar, you'll learn a ton of must-know LinkedIn strategies, including:
First Impressions Matter: Everything starts with your personal LinkedIn profile. We'll discuss how to "dress for success" when it comes to online presentation and how to draw prospects to you
Prospecting: Learn how to use LinkedIn to find, connect, and establish rapport with your target customers
Business Branding: Start to maximizing your free LinkedIn company page and LinkedIn Showcase pages
Success Strategies: Learn how to create and manage your own free LinkedIn group and identify and join existing LinkedIn groups that are packed with potential clients
Top LinkedIn Content Marketing Strategies: We'll share tips and real examples on how to stand out of the crowd using free posts, the LinkedIn publishing platform, and how to encourage your employees and team members to get massive exposure
Third-Party Tools to Support Your LinkedIn Efforts: You'll learn about some must-know tools that will amplify your LinkedIn success
There will be time for Q & A to ensure that you understand precisely how to maximize LinkedIn for your pet sitting, dog walking, dog training, pet grooming, or doggy daycare business.
You Will Walk Away From This Webinar With:
A focused understanding of how LinkedIn benefits your business
The insider trick that will make your company "findable" on the world's largest business network and in Google
Advanced techniques to stand out from your competition
Simple setting changes to ensure that you get better results instantly
Free approaches and third-party tools to help you avoid premium prices
Can't make the live webinar? All who sign up will also receive the webinar recording so you can watch, listen and learn for 90 days after live webinar date.